In April, I traveled to Death Valley on assignment for Huckberry, one of my favorite online destinations for outdoor gear and inspiration. The Challenge? You have a free weekend, a ride to Death Valley and $100 in your pocket. How do you make it happen and make it awesome?
Find out where to stay, what to do and why you should be packing your bags right now! Head over to the Huckberry Journal to read the full story.
Located in California's Mojave Desert, Death Valley National Park is a land of extremes. Badwater Basin has the lowest elevation in North America, just 85 miles from Mount Whitney, the highest point in the contiguous United States.
One of my fondest childhood memories is camping in Death Valley mid-July in 126 degrees, when the only swimming pool within 100 miles was 95 degrees and standing-room only. Furnace Creek holds the record for the highest air temperature in the world at 134 degrees.
We sustained ourselves on ice cubes and salted peanuts each time we climbed out of the air conditioned car at the next destination.
The trip culminated with two flat tires and an extended stay at the Racetrack, a dry lakebed studded with the giant boulders that mysteriously move across the cracked mud. While Dad macguyvered a patch for the spare, my sister and I lounged in beach chairs and dreamed of ice cream to the sound of deafening silence.
Over a decade later, I finally made my return to Death Valley this April with my friends Lindsay and Ferrell. If you live in Southern California, all you need is a 3-day weekend, a ride and $100 in your pocket to have the most epic Shoestring Adventure. Pack your bags, and let's go!
Things To Do
Death Valley has it all, from sand dunes, salt flats and craters to ghost towns, waterfalls, and slot canyons. Here is how we tackled the park in a weekend.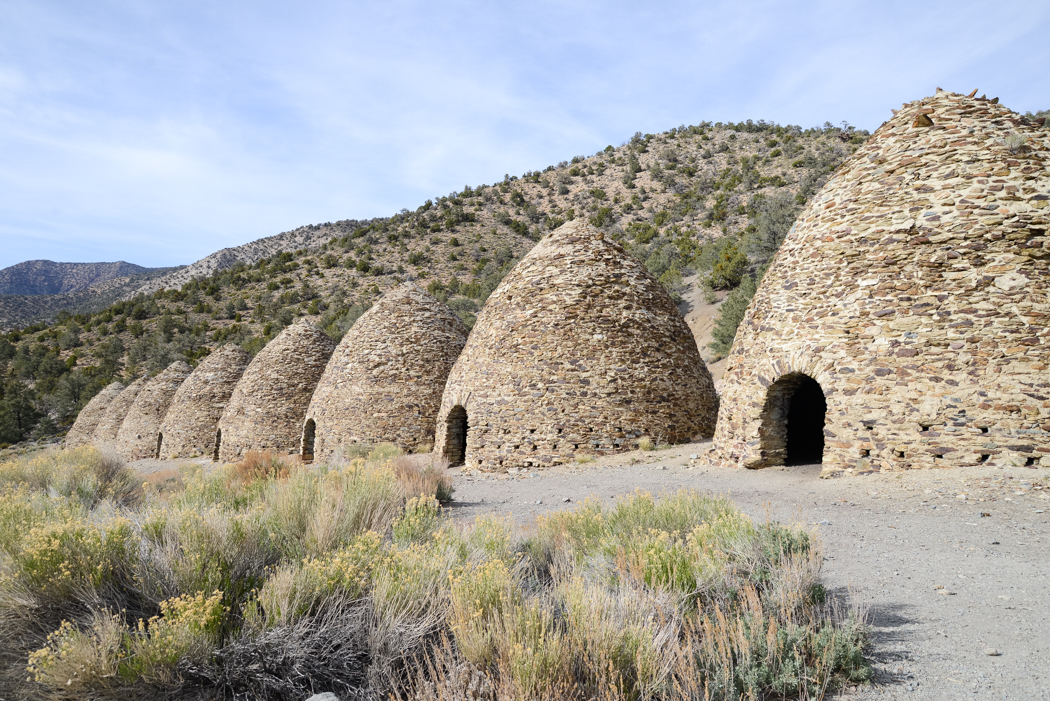 Wildrose Charcoal Kilns
These 10 beehive shaped structures, about 25 ft tall, were completed in 1877 to provide a source of fuel for nearby lead-silver mines.
How to Get There: From Furnace Creek, drive south on Highway 190 about 33 miles. Turn left onto Emigrant Canyon Road for about 28 miles.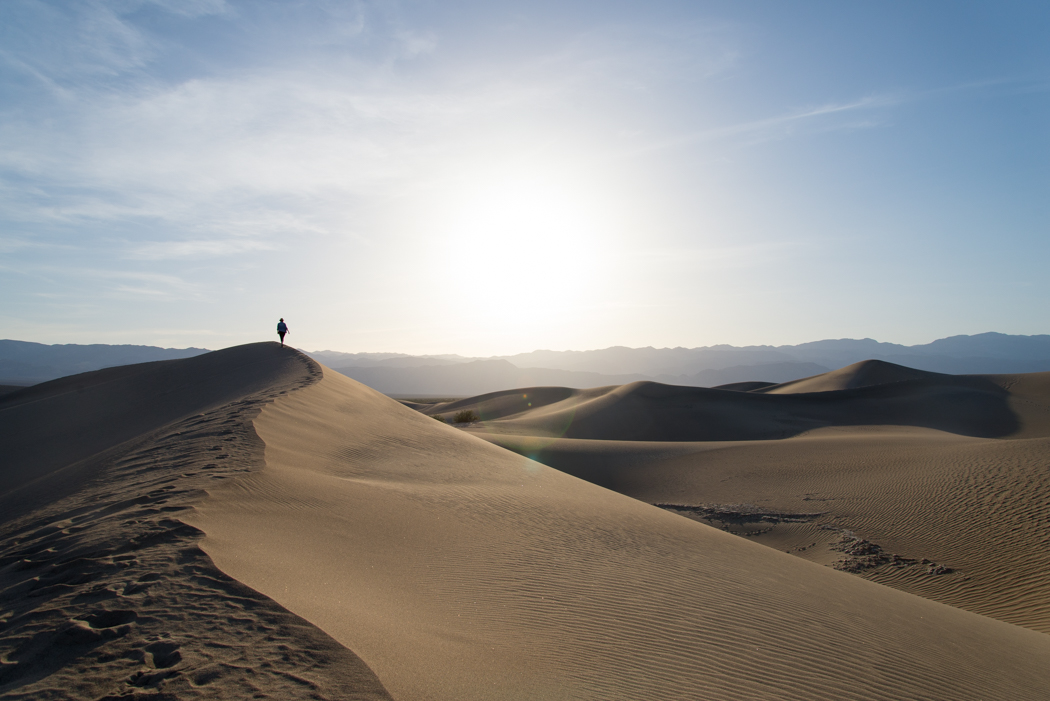 Mesquite Flat Sand Dunes
The Mesquite Flat Dunes are the most well known and easiest to reach. We went for a barefoot hike during golden hour, watching our step for Sidewinders.

How to Get There: From Furnace Creek, drive northwest on Highway 190 about 22 miles.
Ubehebe (YOO-bee-HEE-bee) Crater
Ubehebe Crater, approximately 600 feet deep and half mile across, was created by a powerful volcanic steam explosion. Getting to the bottom is pretty easy. Climbing back up is another story! You can also hike 1/4-mi along the rim and catch a glimpse of Little Hebe Crater.

How to Get There: From Furnace Creek, drive northwest on Highway 190 about 17 miles, then turn right onto Scotty's Castle Road for about 33 miles. Turn left onto Ubehebe Crater Road for about 5 miles.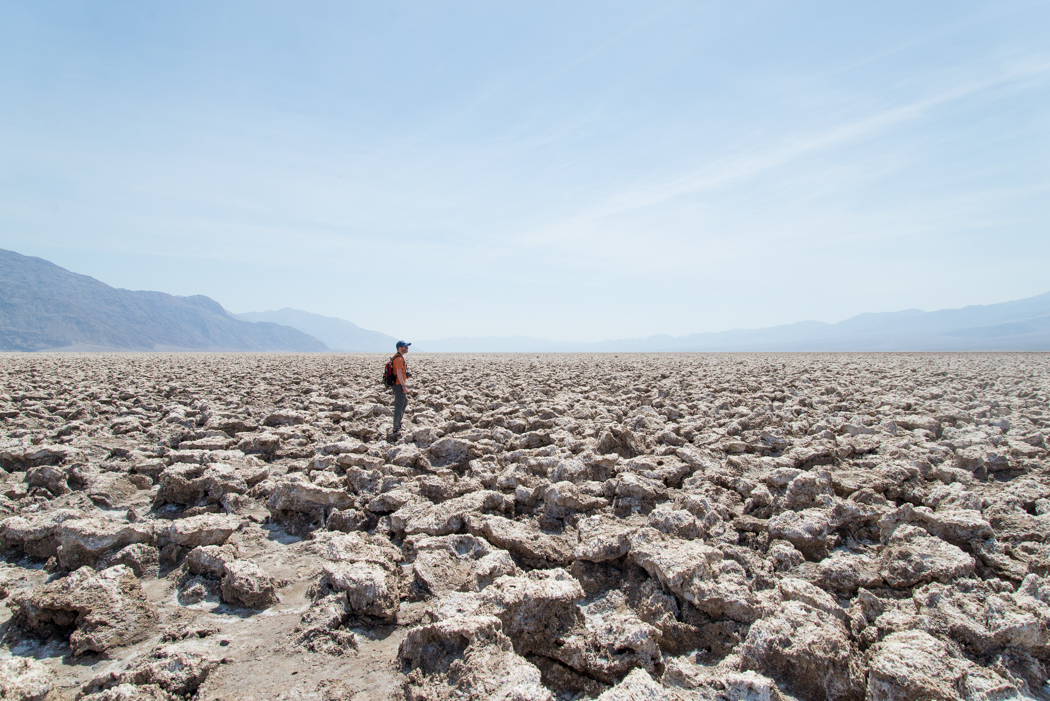 Devil's Golf Course
The Devil's Golf Course is an ancient dry lakebed of salt crystal formations carved by wind and rain. It was named after a line in the 1934 National Park Service guide book, which states that "only the devil could play golf" on its surface, due to its rough texture.

How to Get There: Drive southeast on Badwater Road about 13 miles from Furnace Creek.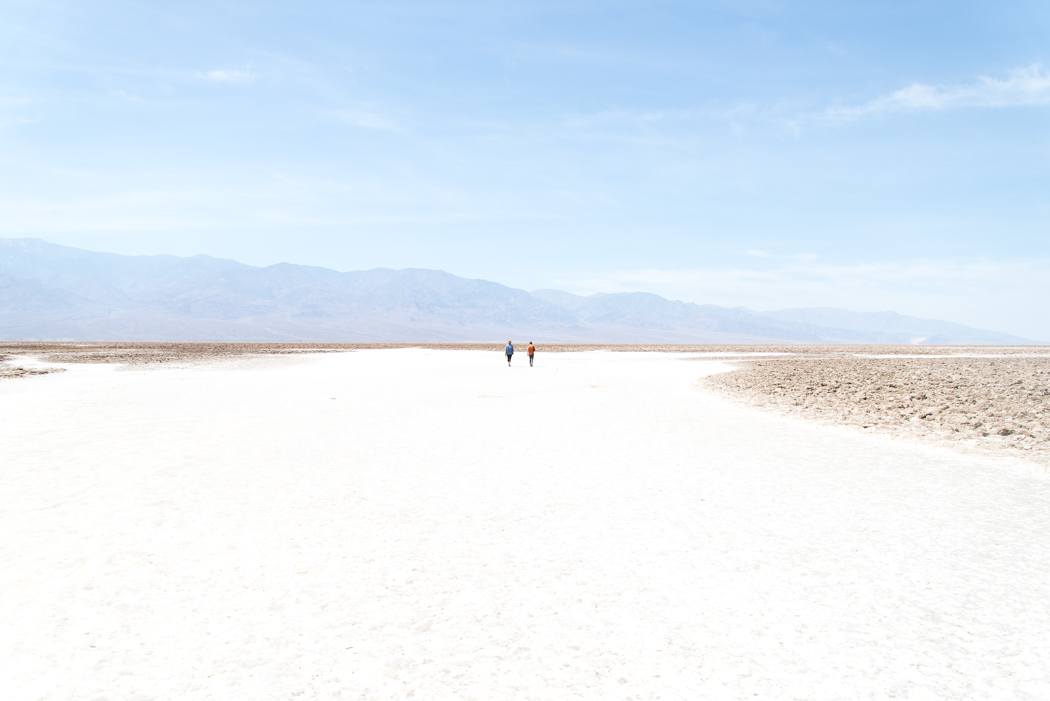 Badwater Basin
Badwater is the lowest point in North America at 282 feet below sea level, just 85 miles from Mount Whitney, the highest point in the continuous United States. The salts have accumulated from the surrounding basin, making the spring-fed pool of "bad water" totally undrinkable.

How to Get There: Drive southeast on Badwater Road about 15 miles from Furnace Creek.
Zabriskie Point
The newly-reopened Zabriskie Point features a spectacular view of the vibrantly-colored badlands, formed from the sediment of a 5 million-year-old lake bed. The site was named after Christian Brevoort Zabriskie, vice president of the Pacific Coast Borax Company, which used twenty-mule teams to transport borax from its mines in Death Valley. (Source: Zabriskie Point)

How to Get There: Drive 25 miles east on Highway 190 from Furnace Creek.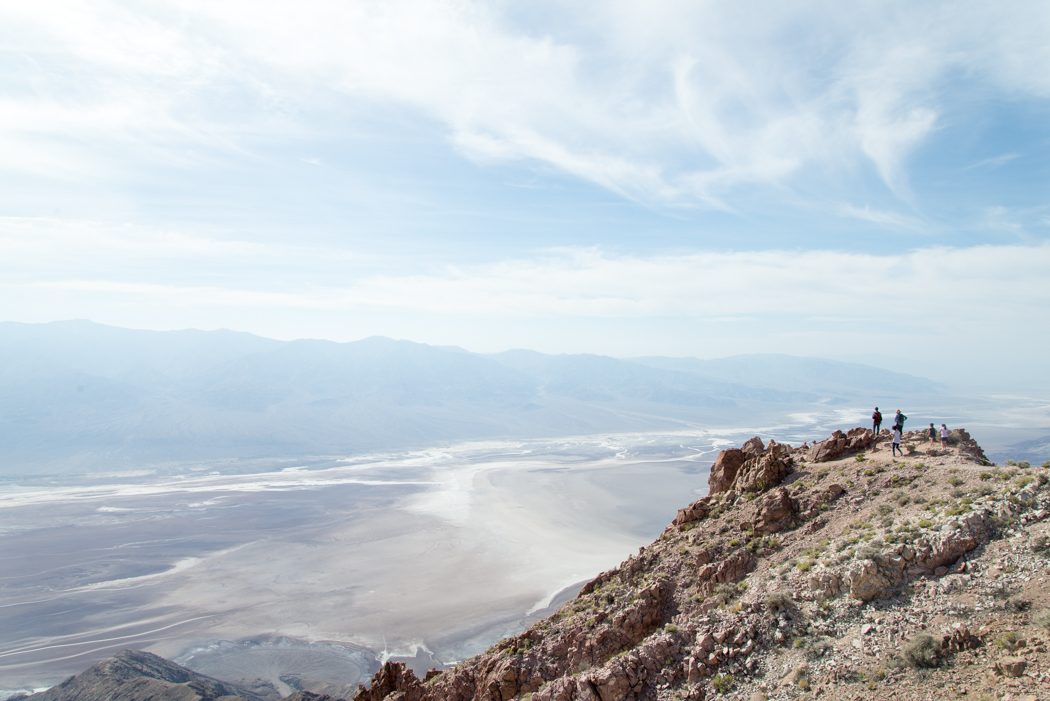 Dante's View
Dante's View is a breathtaking lookout 5,000 feet above the blackened inferno of Death Valley.
How to Get There: Drive 5-mi east on Highway 190 from Furnace Creek.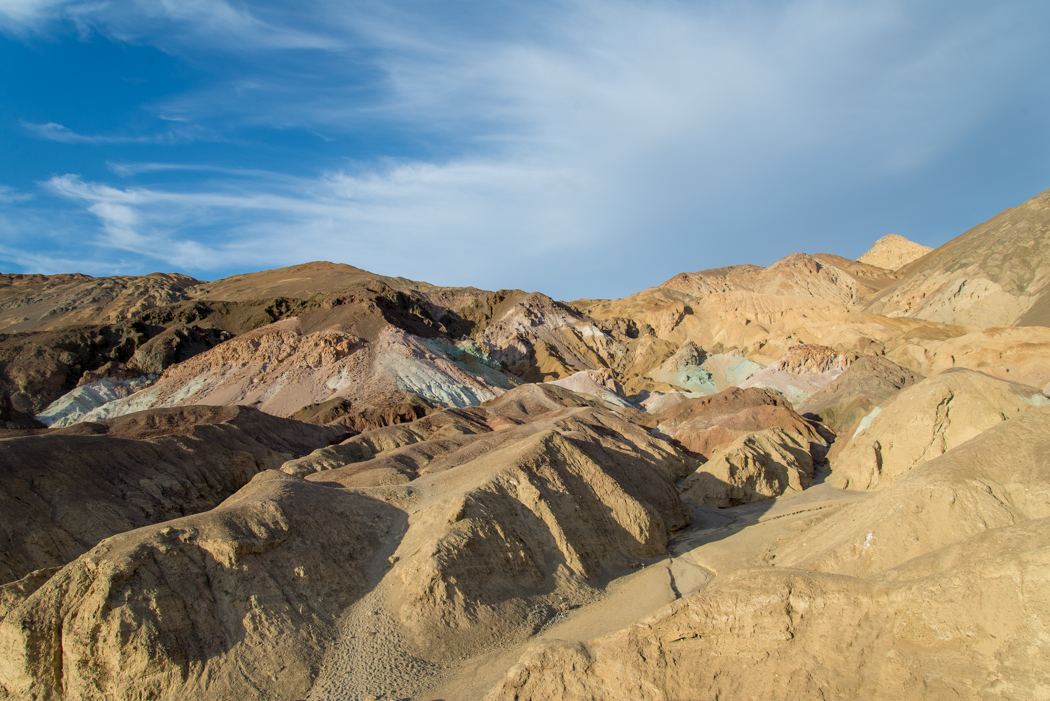 Artist's Drive
Take a 9-mi scenic drive through the multi-colored volcanic hills. By the time we arrived at Artist's Pallet near sunset, the 80 degree heat had brought on a serious craving for ice cream. We watched the orange sherbert skies melt into the Neapolitan flavored hills.

How to Get There: Take Badwater Road about 15 miles southeast, turn left onto Artists Drive.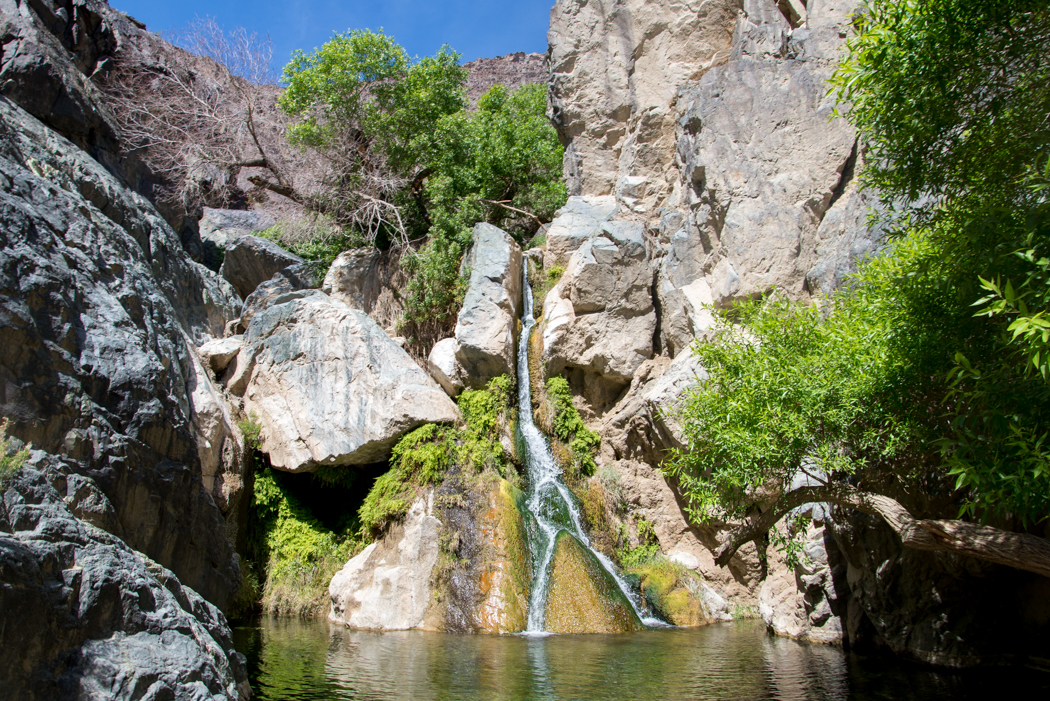 Darwin Falls
From Panamint Springs, a dirt road and a 2-mi hike lead to Darwin Falls, a lush oasis surrounded by some of the harshest desert in the world.

How to Get There: From the Panamint Resort gas station, drive west on Highway 190 for 3/4-mile. Look for a pipe to turn left on the dirt road and drive 2.5 miles to the trailhead. The hike to the falls is 1-mile from the parking area.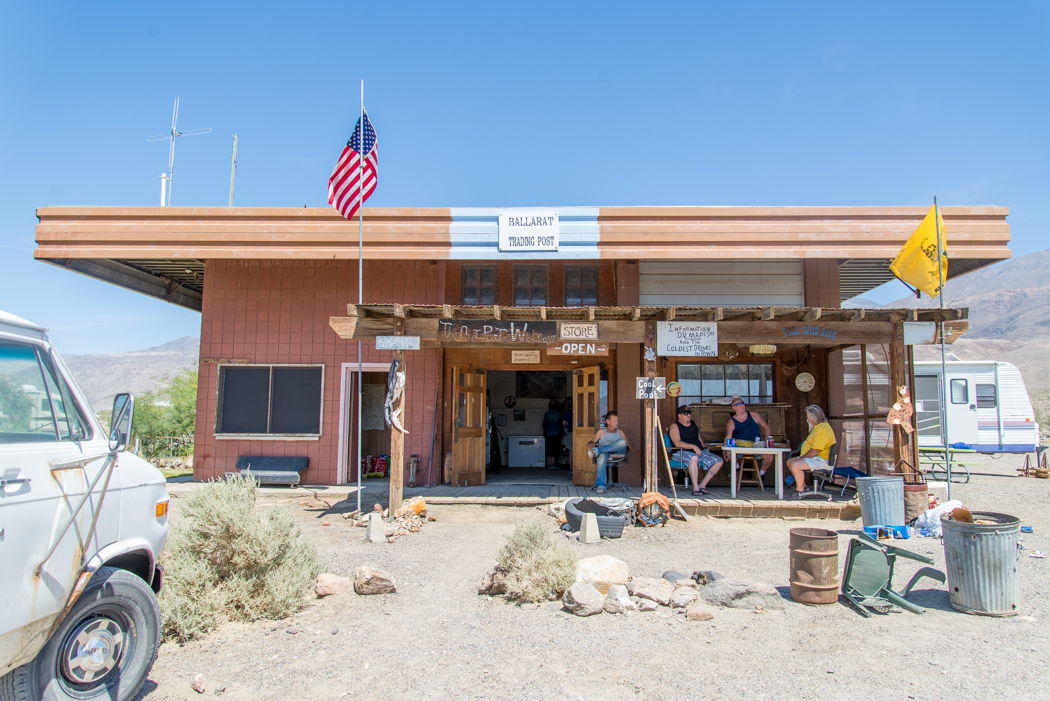 Ballarat Ghost Town
Our final stop was Ballarat, a ghost town overseen by its only resident, Rock Novak, who invited us into the museum and offered us cold beverages. Ballarat was born in 1896 as a supply point for the mines in the canyons of the Panamints. Eventually, as nearby mines closed down, the town deteriorated. (Source: Desert USA)

As we sipped root beer on the shaded porch, we watched a wild burro scamper between Charles Manson's pickup truck and the morgue/motel – a perfect end to our Shoestring Adventure in Death Valley.

How to Get There: From Panamint Springs, head northeast on Highway 190E. In 2 miles, turn right onto Panamint Valley Rd. After 13 miles, turn right onto Trona Wildrose Rd. Drive 9 miles, and turn left onto Ballarat Road for 3 miles. This is a dirt road, but I did not use 4WD.
Where To Stay
The park has 4 FREE campgrounds: Emigrant, Wildrose, Thorndike and Mahogany Flat. All campgrounds in Death Valley are first come/first serve, except for Furnace Creek from October thru April. We left early Friday morning to score the best site at Wildrose. Slightly off the beaten path, this campground was quiet and at least 15 degrees cooler than Furnace Creek.
Tips & Tricks
We drove over 200 miles each day, making gas our biggest expense. You will want to fill up before you enter the park, but gas is available for a premium at Stovepipe Wells, Furnace Creek and Panamint Springs. The Gas Buddy App is your best friend to find cheap gas outside the park.
Free Death Valley guide maps are located throughout the park at gas or ranger stations.
To freeze your own ice blocks, fill a large Tupperware container with ice, freeze and repeat. Blocks are free and last longer than ice cubes.
If you frequent national parks and federal recreational lands, consider investing in an annual pass to save on entrance fees.
Peanut butter & jelly sandwiches are the best thing since sliced bread, especially when you're traveling on a budget.
Get Directions
[mappress mapid="46″]