Just over two hours from Los Angeles, Palm Springs is the perfect weekend warrior escape, from hip poolside lounges and gourmet eateries to cascading waterfalls and dune buggy limousines. If you can manage to break away from the pool for a few hours, check out some of my favorite adventures!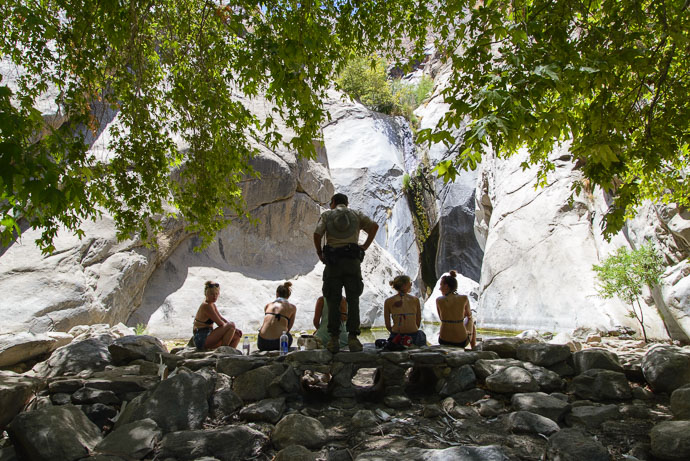 Taquitz Falls
Taquitz Canyon Trail | 500 W. Mesquite Ave., Palm Springs, CA 92264 | (760) 416-7044

According to legend, Taquitz was a good shaman turned bad, banished by his people to the canyon that now bears his name. He can sometimes be seen as a large green fireball streaking across the night sky. The Taquitz Canyon Trail is a moderate 2-mile loop to a waterfall that flows during the winter and spring months.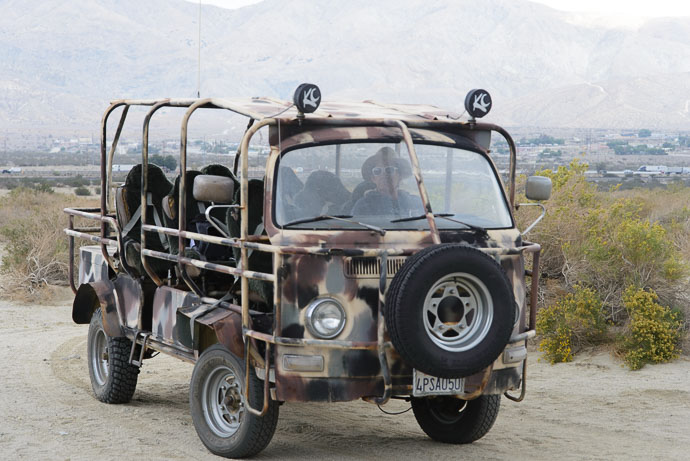 Dune Buggy Tours and Rentals | 59511 U.S. Highway 111, Palm Springs, CA 92262 | 760-322-7023

Get up-close-and-personal with the iconic windmills in a dune limousine. Dune Buggy Dave offers guided off-road tours. Buckle up, and enjoy the view!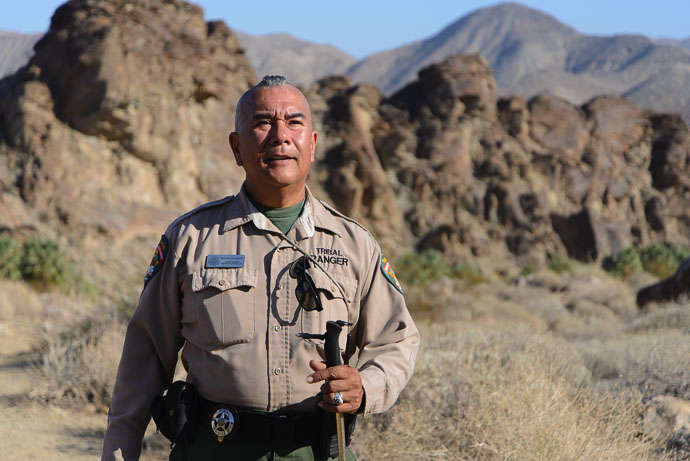 Indian Canyons | 38520 S Palm Canyon Dr, Palm Springs CA | (760) 323-6018

Join a 1-mile guided nature walk along the Andreas Canyon Trail on the Agua Caliente Indian Reservation, and learn how the ancestors of the Cahuilla Indians thrived in this lush desert oasis, surviving extreme temperatures and making use of every natural resource. Ranger-led hikes are available to the public Friday, Saturday and Sunday at 10AM and 1PM. Go to Indian-Canyons.com to check the schedule.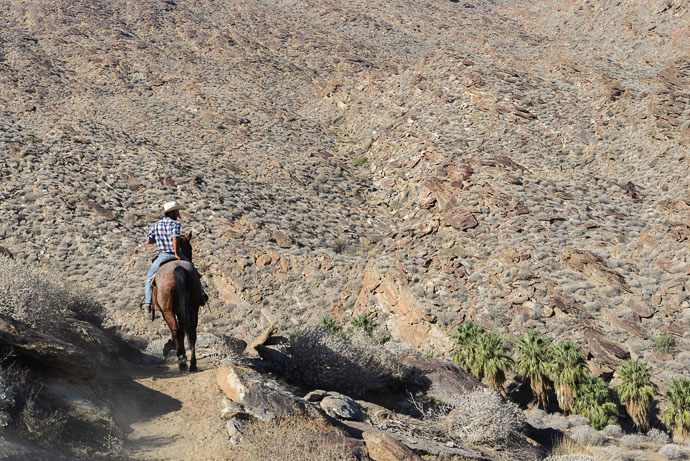 Smoke Tree Stables | 2500 Toledo Ave, Palm Springs, CA 92264 | (760) 327-1372

Dust off your cowboys boots and take a ride through Indian Canyons on the Agua Caliente Indian Reservation with Smoke Tree Stables. The trail will lead you along an ancient palm oasis, over several river crossings and up to a lookout with surrounding views of the Santa Rosa Mountains and the city of Palm Springs.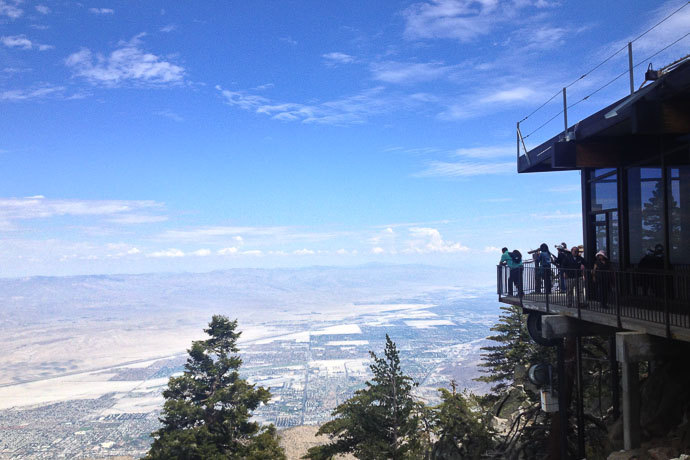 Palm Springs Aerial Tramway
1 Tram Way, Palm Springs, CA 92262 | (760) 325-1449

Ride the Palm Springs Aerial Tramway from the desert floor to the forest wilderness of San Jacinto State Park. Enjoy breathtaking views while dining at the restaurant, or strap on your hiking boots and hit the trails. I recommend the Round Valley trail as a pleasant 5-mile round trip day hike. Check here for more options.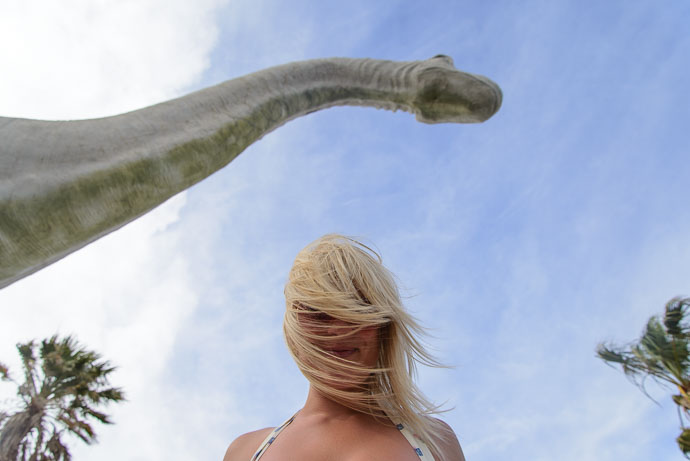 Worlds Biggest Dinosaurs Museum | 50800 Seminole Dr, Cabazon, CA 92230 | (951) 922-8700

Upon leaving Palm Springs, you can spot a giant Apatosaurus and Tyrannosaurus peering over the side of the I-10 Freeway. This is a great place to stop and snap some photos with your friends.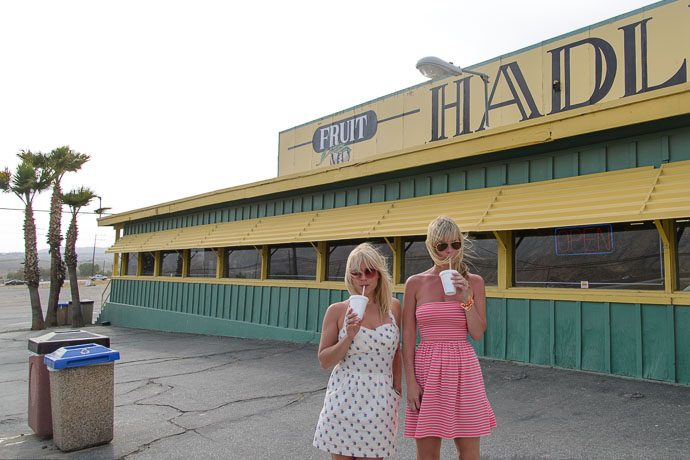 48980 Seminole Dr, Cabazon, CA 92230 | (951) 849-5255

For a cool treat, grab a banana date shake at Hadley's Fruit Orchards.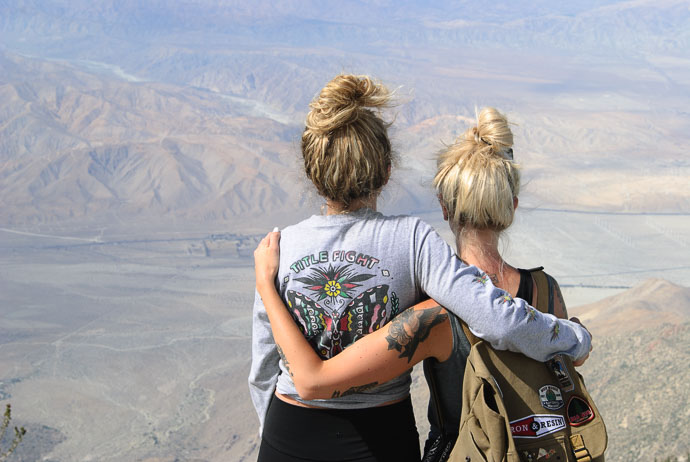 Mount San Jacinto Summit
After visiting the summit, wilderness legend John Muir wrote, "The view from San Jacinto was the most sublime spectacle to be found anywhere on this earth." Jacinto is still one of my favorite peaks in SoCal. If you're up for a challenging day hike, you can access the summit from the top of the aerial tramway (11-mi RT) or via the Marion Mountain Trail (12-mi RT).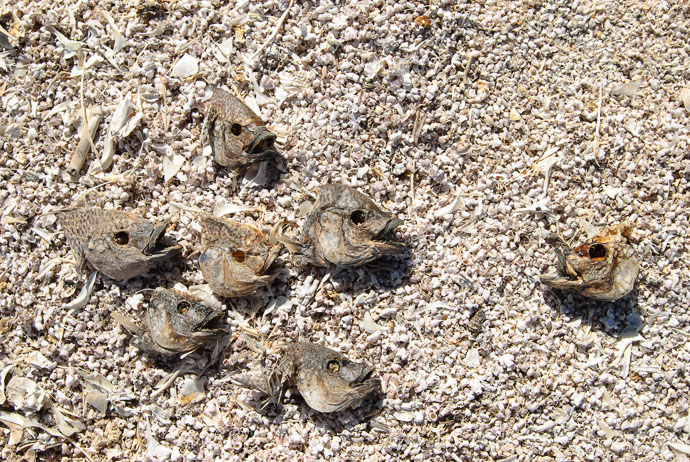 Niland, CA | Driving Distance from Palm Springs: 1 Hour

Once upon a time, the Salton Sea was a vacation hotspot for A-list Hollywood celebrities. But the lake has been shrinking for several decades and has become far too saline and polluted for even fish to tolerate. The sound of brittle fish bones breaking beneath your feet may cause you to think twice about long walks on the beach.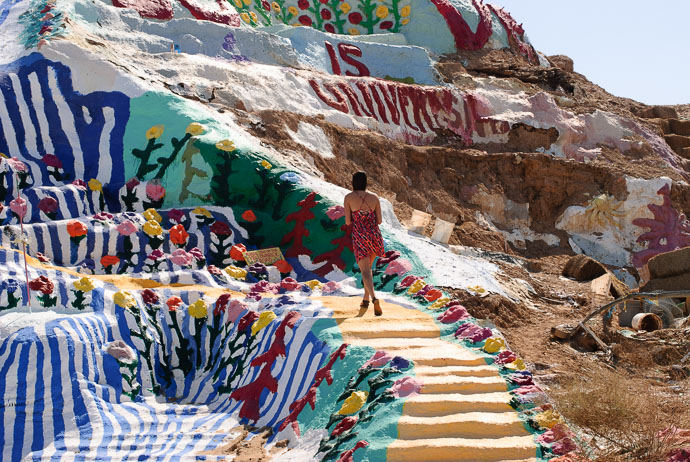 Niland, CA | Driving Distance from Palm Springs: 1 Hour

Salvation Mountain rises from the dusty desert landscape with a message for weary wanderers: God is love. Made of local adobe clay and thousands of gallons of donated paint, the monument is artist Leonard Knight's love letter to God. Get lost in Leonard's world, filled with technicolor trees, secret layers and hidden love notes.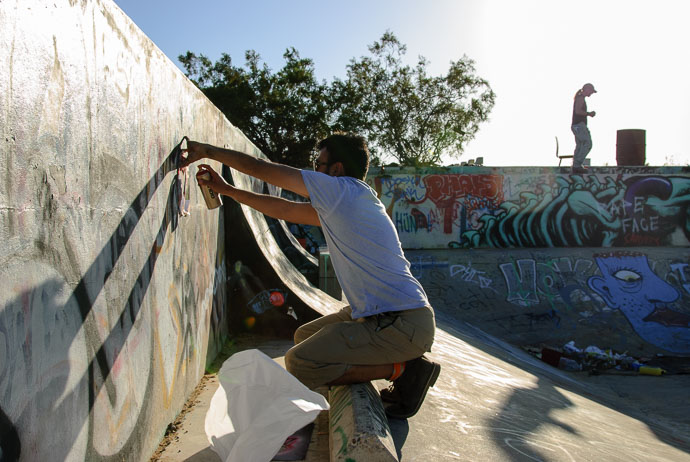 Slab City
Niland, CA | Driving Distance from Palm Springs: 1 Hour

In 1942, the military constructed a training camp near Niland, CA to prepare Marines for harsh combat conditions. When the camp was dismantled, all that remained were concrete slabs. In 1965, a displaced community of people migrated to the abandoned military base. Today, Slab City is home to a variety of people, including artists, anarchists, school teachers and vagabonds.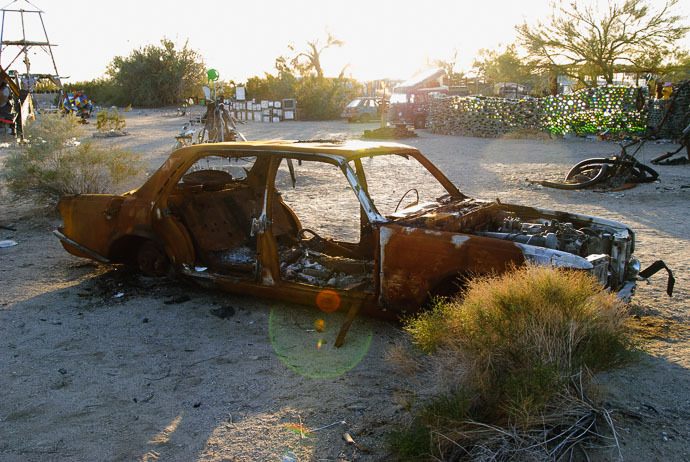 East Jesus
Niland, CA | Driving Distance from Palm Springs: 1 Hour

East Jesus is an ongoing art project on the far end of Slab City, started in 2006 by the late Charles Stephen Russell. Russell created most of the art from trash that had been dumped at the site.